Ceramic urn, from clay to urn
Each ceramic urn from Lalief are handmade from a large block of clay. Clay is a natural raw material and the basis for making ceramics. There are many different types and colors of clay, different glazes and techniques. So endless possibilities. Below I take you through the process of making the mini ceramic urn with aluminum wire.
Shaping, glazing, drying and baking
To make the ceramic urn with aluminum wire, I use white clay with a matte glaze. First, I knead the air out of the clay, weigh the pieces of clay on a kitchen scale and make them into equal smaller balls. Then I give all the pieces of clay the right shape. Letting it rest for one day makes the outside firmer, the inside remains soft. Then I cut the urn in half, hollowed out the urn and glued both sides back together. Before the clay can be fired for the first time it must be air dried. When the clay turns a light color and is no longer cold to the touch, it is dry.
From clay to urn, a slow process
Now the ceramic urn can be fired for the first time at 980 degrees, the bicuit firing. The ceramic urn is now strong and dry, but still porous enough to absorb glaze. The ceramic urn is glazed and fired again at 1080 degrees, also called the glaze firing. At 200 degrees you may open the oven, but it is best to let it cool completely. So please be patient. Once everything has come out of the kiln properly, I provide all ceramic urns with a wire figure and cap.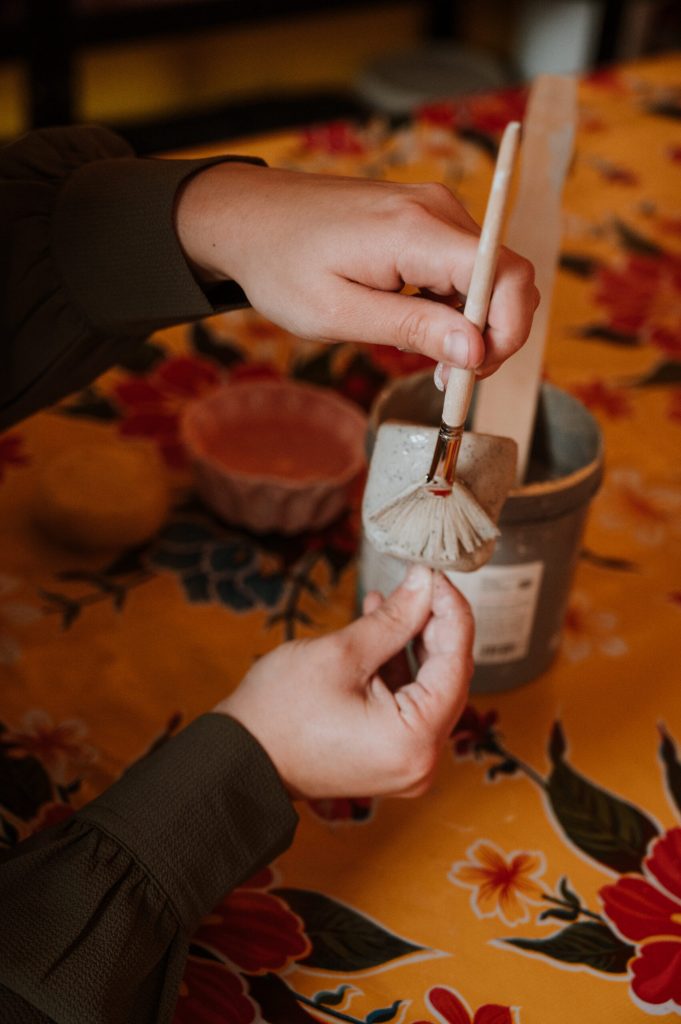 A ceramic urn is made with love
The whole process of forming, drying, firing, glazing and firing again takes an average of 3 weeks. Hence the longer delivery time for a custom urn. All ceramic urns for humans and animals are made with love and attention. Each urn goes through my hands several times and no two urns are the same, which makes each one unique.
Sustainable
Leftover clay and glazes are reused so nothing goes to waste. Firing the furnace, of course, takes a lot of energy. The solar panels on the barn roof generate power for my oven and studio. I also make sure that the packaging of my ceramic urns is as recyclable as possible.