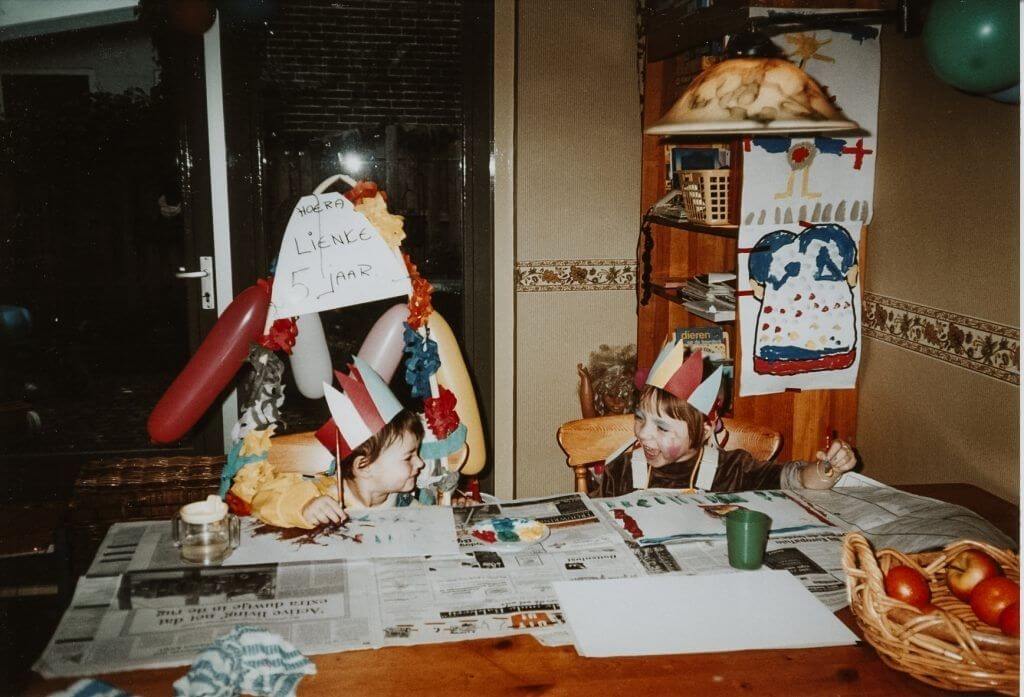 About Lalief and its ceramic urns
Committed, creative and passionate are words that suit me, Lienke, the face behind Lalief! With love and attention I make various types of ceramic urns. Urns allow you to store and cherish the ashes of a beloved person or animal.
My favorite memories
I've always been creative. We used to have a cupboard full of paper, markers, paint and clay at home. Our very own craft closet! Endlessly I crafted the cutest things with my mother and my sister. My creativity undoubtedly comes from my mother. For me, these crafting moments are some of the best memories I have of her. And a birthday, of course, was the ultimate time to get crafty. In the photo, I'm on the right; my sister had nicked my birthday chair.
The search for appropriate ceramic urns

Never before had it occurred to me to really do something with this creativity, until my mother passed away in 2014. I was 19 years old at the time. We have personally noticed how difficult it is to find a matching ceramic urn. My dad, sister and I were looking for something light and modern. Not an eye-catching big pot where you are constantly reminded of the death of your loved one, but a subtle and light urn, matching the interior and our mother. It took all three of us six months to find something that met our needs.
A bright spot in a difficult time

Ik startte in 2019 met Lalief om voor anderen wél die subtiele, lichte en passende urn te mogen maken. Om zo voor een klein lichtpuntje te kunnen zorgen in een ontzettend moeilijke en verdrietige tijd. Ik vind het enorm bijzonder als mensen na een lange zoektocht bij mij terechtkomen en hier vinden wat ze zoeken. De as wordt soms jarenlang in de kast bewaard tot het eindelijk dat verdiende plekje krijgt. Ik gun de overledene dat speciale plekje. En dat is precies de reden waarom ik Lalief ben begonnen. Om voor anderen wel die persoonlijke keramische urn te mogen maken. Alle keramische urnen bekijk je hier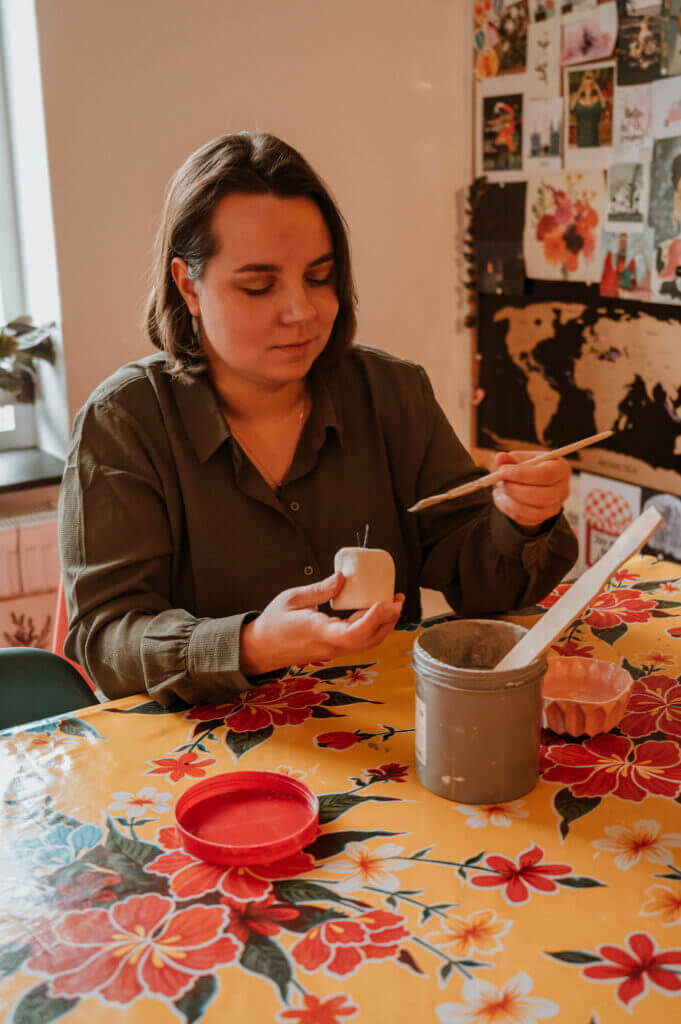 Fun facts about me
Annually I sponsor items for the Star Book Foundation
The Star Book Foundationsends out star mail around the anniversary to parents who must miss their child(ren). With this, the Star Book Foundation wants to give parents some love and warmth on this sad day. Lalief is grateful to be able to contribute to this as a sponsor.
You won't find me in my studio, you'll find me in the vegetable garden
In my vegetable garden, I enjoy growing my own vegetables, fruits and flowers. In addition to the plants in my vegetable garden, I am also incredibly fond of houseplants.
I regularly visit a war grave
Many war graves in the Netherlands are still regularly visited by surviving relatives, but for a great many there are no longer any relatives. These graves are available for adoption. For example, I have adopted a war grave at the Field of Honor in Loenen where I regularly lay flowers.
I love ice cream – even in the winter
Besides that, I really enjoy the little things, like walking with the dog, baking cakes, walking around the market, watching movies, reading books and chatting with girlfriends.
What others say about the ceramic urns
Beautiful by simplicity
"A few weeks ago, my mother-in-law passed away and my partner and I were looking for something beautiful in which we could keep some of the ashes. Through Google we found Lalief and we immediately loved the urn with the heart. Beautiful in its simplicity! The aftercare and ordering is top notch!"
Heyer
What others say about the ceramic urns
Contemporary ceramic urn
"Looking for an urn, for my sister who passed away much too soon, I came across Lalief's website. What contemporary and special urns she has. Lienke, the owner of Lalief, knows how to make the ceramic urn exactly to your wishes. I now have a very beautiful special ceramic urn, not too big but with the holder for flowers it has a very special place in my home. Thank you Lienke!"
Truus
What others say about the ceramic urns
Just a bit different
"We were looking for an urn that was beautiful in its simplicity, just a little different and where you did not immediately feel that it was an urn. After a thorough search on the Internet, we came to Lalief. They listened carefully to our wishes and thought along with us. Thank you, Lienke, for the service and the beautiful urn we received!
Denise
Interested in a Ceramic urn? I'd love to help you out!
Choosing and buying an urn can be quite difficult. Feel free to get in touch! I am happy to listen to your story and wishes in order to find or create the appropriate ceramic urn together.