How do you tell your child about his or her deceased sister or brother?
A deceased sister or brother, how do you tell your child? When my son was two, he became aware of having a sibling. All his friends at the nursery already had a sibling (or both) or were becoming big siblings. He wanted that, too. At every stroller he saw, he would point with his little hand and say, "Look mommy, a baby. I then replied, "Yes Mans, sweet huh? Yes, he then replied and walked on again cheerfully. At some point he stopped being sweet huh?
If I then said, Yes Mans, sweet huh? Answered Mans: mommy, Mans is always nice to babies you know that right? Yes, Mans I know that. That's what the teacher always says. Mans loves babies.
Again a few weeks later, he didn't take kindly to this either. And he asked: when are we going to have a baby? Mans loves babies you know that right? I replied, yes Mans, mom knows you love babies, but we are not having a baby. Mans then mumbled something more like: but Mans likes babies a lot….
At one point, the teacher mentioned that Mans had cried when his friend Lotte had had a sister. He didn't think it was fair because Lotte already had a sister. When we got home, I asked Mans why he was crying because Lotte had gotten a sister. He said, Lotte already has a sister and Mans doesn't. Mans wants a baby, too.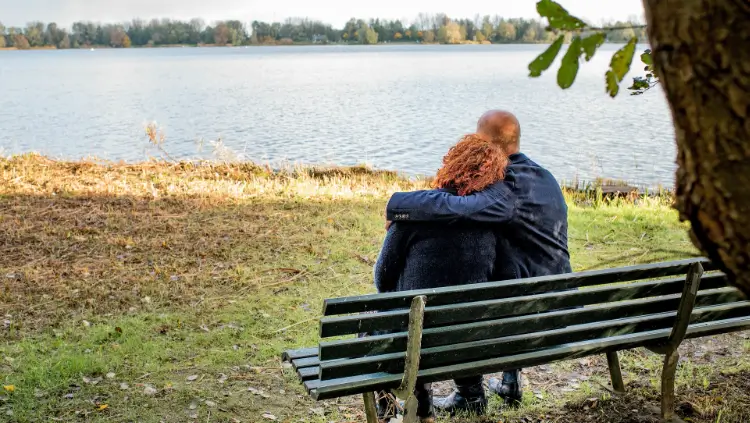 Then I decided to tell Mans about his deceased sister and brother. I grabbed Madelon and Oscar's photo books and took Mans on my lap. Look, I said. This is Madelon and this is Oscar. Those are your big sister and big brother. Mans called the names and looked at the pictures with admiration. Grabbed the cover of Oscar's book with his small hand and flipped through it. With each picture, he pointed to Oscar and said, Oscar! He repeated this as many as three times. Then he picked up Madelon's book, and in the same way he flipped through her picture book.
I told him that Madelon and Oscar were dead. That they were in heaven. In doing so, I pointed to the sky. Because it was dark you could see some of the stars. Mans pointed to the stars and said, are they there? Yes I said. Madelon and Oscar are stars in heaven and now they are waving at you. They cannot play with you because they are no longer alive. To clarify what "dead" was, I said: as in Frog and the little bird. That one is also dead, Mans said. That one doesn't do it anymore. That one is in the ground. Yes I said. That's right. But Madelon and Oscar are not in the ground. Those are in heaven, Mans replied.
I smiled and told him that the little bird was also in heaven. And that Madelon and Oscar were at our house. I took him to the urns and said, this is where they are. Mans replied: not in the ground but at home? Yes, I said. Home. Then they are always with us. And that's why Mom never lets you touch these lights. Because if they break… Mans looked at the urns and said, Bye Oscar and Madelon. I'm Mans.
Until my son started talking about siblings by himself, I never told him about his big sister and brother. I received the "advice" from several people around me to "not burden" Mans with our grief and tell him about his deceased sister and brother. It would damage him. He would feel that he was only born because Madelon and Oscar were dead…..
Well-meaning advice, but which I couldn't do anything with. But what did make me wonder.
How could I shield my grief and love for my other children from him? What was I to answer when he would ask about those "jars of candles"? Would I really damage him if I told him he had an older sister and brother? Would he really believe it that he was born only because Madelon and Oscar had died?
Why these opinions? Where does it show that it would damage Mans? Death is something that comes with life. And yes unfortunately very young people are dying. Madelon and Oscar are part of our family. They are our children and they don't deserve to be talked to death as well.
When Mans himself started talking about siblings, that felt like the moment for me to proudly talk about Madelon and Oscar. And it turned out to be a good decision. For me and for Mans.
From then on, Madelon and Oscar really are his big brother and sister. He tells everyone very proudly that he has a brother and a sister. And that they are in heaven.
In my practice, I am often asked by clients whether and how they should tell their children about their deceased sister or brother? My answer is always. Yes tell them. Just in children's language. And if you find it difficult to explain, there are booklets that help make death understandable to children such as: My little big brother, Frog and the bird, Bed in the clouds, Little vole, Ono a special brother, Plume.
NB the name Lotte is fictitious for privacy reasons.
How do you tell a child about his or her deceased sister or brother? Was written by Leonie Nuijen of Dunamiscoaching. After the death of her two oldest children and during the pregnancy of her youngest son, whom she did get to see grow up, she did not get the help and support she was looking for. Somehow Leonie had a different need than mainstream care could offer her. Leonie managed to pick up life again and become happy. She managed to enjoy pregnancy after losing her children. And she has made that her job. Leonie counsels parents (and their loved ones) after the loss of their baby. And counsel parents during pregnancy after losing a baby. In addition, she has written a book. Information can be found on her website.